KK ENERGY ALIEN BOX (8000 PUFFS) DISPOSABLE
Experience the all-new Energy Alien 8000 Puffs Disposable in UAE! A disposable vape is a pre-filled e-cigarette device that is designed for one-time use. It usually comes with a battery, a heating element, and a pre-filled e-liquid cartridge that cannot be refilled or recharged. Disposable vapes are typically small, lightweight, and easy to use, making them a popular choice among vapers who are looking for a convenient and hassle-free vaping experience.
The Energy Alien 8000 Puffs Disposable Vape is one of the many disposable vapes available on the market. As its name suggests, it claims to provide up to 8000 puffs, which is a lot compared to other disposable vapes that typically offer around 300-1000 puffs. It comes in various flavors and nicotine strengths to cater to different preferences.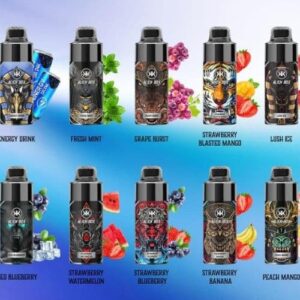 KK ENERGY Alien 8000 Puffs Features:
Brand: KK

Capacity: 15mL

Battery

: Internal 600 mAh

Chassis Material: Aluminum-Alloy

Nicotine Strength: 50mg

Puffs: 8000+

Improved Cotton Wicking

Heating Element: 1.2ohm Mesh Coil

Charging: Type-C Port
Available Flavors:
Sweet Melon Mango

Watermelon Bubblegum

Strawberry Blueberry

Strawberry Blasted Mango

Iced Blueberry

Grape Burst

Strawberry Watermelon

Strawberry Banana

Peach Mango

Lush Ice

Fresh Mint

Energy Drink
Ingredients:
Vegetable Glycerin,
Propylene Glycol,
Nicotine,
Natural &
Artificial Flavors
Grape Ice, Banana Milk, Mango Strawberry Ice, Energy Drink, Cool Mint, Pina Colada Rum, Strawberry Donut, Orange Soda, Fruit Fusion, Red Apple Lemon, Lush Ice, Gummy Bear