Authentic Fury Bar 5000BC Disposable Vape
The Fury Bar 5000 Puffs Disposable Vape has quickly become the most talked-about innovation in the vaping community. Elf Bar consistently improves its flavor components above and beyond what customers expect from a brand.
The FURY Bar BC5000 Vape is a small but potent device! The design of the flagon container makes it enjoyable to use. The moment you hold it, you'll fall in love with it.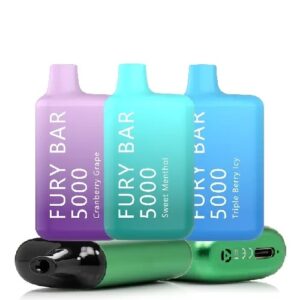 Fury Bar 5000 Disposable Vape
The new Fury Bar 5000 Puffs Disposable Vape 5000 Puffs Now available in Dubai UAE! Cash in delivery available to Abu Dhabi, Dubai, Sharjah, Ajman, Umm Al Quwain, Ras Al Khaimah and Fujairah.
Get the ultimate vaping experience with the Fury Bar 5000BC Disposable. 5000 puffs and 13ml of e-liquid capacity with a 650mAh rechargeable battery, and battery life can last for up to 500 charges.
What is the point of owning a disposable e-cigarette when you can have all the benefits of the Fury Bar 5000 Puffs Disposable and take it with you? With an approximate puffs of 5000, this electronic cigarette has enough to satisfy even the most avid smoker.
The 13ml tank is enough to carry over a couple full tanks and it features a 650mAh battery that is rechargeable with a 1.0 mesh coil. This electronic cigarette is also available in nicotine levels ranging from 5% to 50mg
FURY BAR 5000 PUFFS FEATURES:
 Brand: FURY BAR
Approximate Puffs: ~5000
E-Liquid Capacity: 13ml
Battery: 650mAh rechargeable
Nicotine: 5% | 50mg
Coil: 1.0 Mesh
Available Flavors:
Vimto Ice
Kiwi Passion Fruit Guava
Energy
Mango Peach
Lemon Mint
Sweet Menthol
Rainbow Candy
Watermelon Cantaloupe Honeydew
Strawberry Mango
Peach Mango Watermelon
Cranberry Grape
Triple Berry Ice
Watermelon Ice
Sakura Grape
Blueberry Red Bull
Sour Apple
Strawberry Banana
Strawberry Kiwi
The Best Disposable Shop in the UAE
Look no further than our website if you're looking for a reliable and reasonably priced disposable shop in Dubai. MVAPEDUBAI have the most competitive prices in the UAE and always strives to deliver your orders as soon as possible. Furthermore, we offer customer service 24 hours a day, seven days a week to ensure that you have a pleasant shopping experience. Take advantage of our disposable shop, which is the best in town! Furthermore, our quick shipping ensures that your order arrives on time. So, why bother? The time has come to reap the benefits of disposable vaping!