New Authentic Geekvape Wenax K1 Pod Kit
Geekvape Wenax K1 Pod Kit is Powered by an Integrated 600mah Battery and is Capable of a 16w Max Output, Which Has Been Balanced to Ensure a Full Day of Vaping Between Charges. Each Kit Comes Complete With Two Specially Designed 2ml Pods With Two Resistance Options to Choose From.
Designed for Compatibility With Stronger Nicotine Salts for a Mouth-to-lung (Mtl) Style Vape, This Device Produces Small and Discreet Clouds and Offers a Sensation Akin to Smoking a Cigarette.
Geekvape Wenax K1 Pod Kit, featuring an integrated 600mAh battery, 16W output, and adjustable 3-tiered power output level. Constructed from durable zinc-alloy, the chassis of the Geek Vape WENAX K1 offers a lightweight and slim profile, perfect for daily carry in the bookbag, pocket, or purse.
Operating off a dual firing system, the WENAX K1 Pod System can be used in a draw-to-fire mode or fire button to deliver satisfying vapor. Holding up to 2mL of eJuice or nicotine salts within the refillable pod, the WENAX K1 utilizes an integrated 1.2ohm KA Coil to unlock the flavors of your filled juice.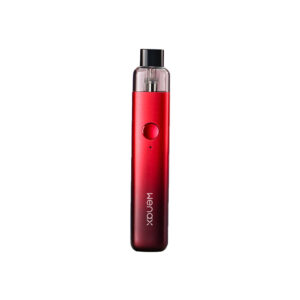 Geekvape Wenax K1 Pod Kit
The Geekvape Wenax K1 Pod Kit shrinks its size to an extreme. The lightweight shape of Geekvape Wenax K1 ensures more freedom to play. Wax K1 is a compact and exquisite work of art. Powered by an inbuilt 600mAh battery, the Geekvape Wenax K1 supports a Type-C charge system. It has a 2ml refillable juice capacity.
The internal coil supports 300~400 puffs. The longer lifespan of the Geekvape Wenax K1 Pod Kit Cartridge brings more puffs with fewer bucks. The Geekvape Wenax K1 adopts a constant output system, so vapers are capable of enjoying a steady and stable performance. The dense flavor of each Wenax K1 stops between the mouth and lips, bringing pleasure in a more lasting posture.
GEEKVAPE WENAX K1 16W POD SYSTEM Features:
Size: 21.6mm × 114.6mm

Output Power: 9-16W

Battery Capacity: 600mAh

Coil: 0.8ohm,12-15W; 1.2ohm,10-12W

Charging Specification: 5V | USB-C Charging Port

Low Voltage Warning: 3.2土0.1V

PCBA Temperature Alarm: 80℃

Longest Vaping Time: 10S

Working Temperature: -10~45℃

Stand-by Current: ≤15uA

Constant output for stable performance

Lightweight with portable slim design

3-level adjustable power output

600mAh battery with Type-C fast charging

Auto Draw & Button Triggered

Auto-sleep after 10 seconds