Authentic JUUL Pods Russian Version In Dubai
JUUL Pods Russian Version Cool Mint has a crisp peppermint flavor with a soothing aftertaste.
JUUL Pods Russian Version e-liquid contains a proprietary formulation that combines glycerol, propylene glycol, natural oils, extracts and flavor, nicotine and benzoic acid. Together with temperature-regulated vapor technology, this proprietary chemistry enables JUUL to deliver a vapor experience like no other.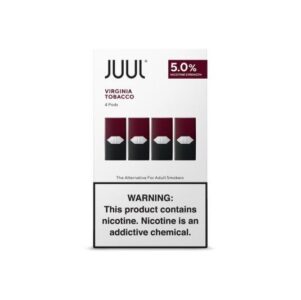 Juul Pods Russian Version Specifications:
Size:11.5 × 6.5 × 1 Cm
Capacity: 0.7ml
Nicotine: 5%
Resistance: 1.8ohm
Puffs: 200 Puffs
Juul Pods Russian Version Features:
Long Lasting .7ml Pod
5% Nicotine
Non-refillable Design
Juul Compatible (Sold Separately)
Approximate 200 Puffs
Juul Pods Russian Version Profile:
Juul Pods: Mango Flavor
A Later Addition to the Juul Pod Flavor Family, Mango Has Been a Huge Hit. While the Fruit Medley Option Gives You Hints of All Kinds of Tastes, This Juul Pod Flavor Brings You a Full-blooded Hit of Mango That's Sweet and Delicious.
Juul Pods: Cool Mint Flavor
As Popular as the Virginia Tobacco Juul Pod Flavor is, Cool Mint Has It Matched Step for Step. This Menthol Vape Infused With Mint is as Refreshing as It Gets When It Comes to Using E-cigarettes, Giving You That Much-needed Breath of Fresh Air, Whenever You Need It.
Juul Pods: Virginia Tobacco Flavor
Juul's Classic Tobacco Imitation Pod Flavor is Also Its Most Popular. This American-blend Style Vape is a Regular Juul Pod Flavor for Almost All of Its Customers, Delivering a Rich and Uncanny Taste.
Juul Pods: Cucumber Flavor
A Super-fresh Option for Those Who Would Rather Avoid Tobacco-based Vapes, Cool Cucumber is Perfect for Those Summer Days When You're Looking to Chill Out. It's Sweet Yet Refreshing and a Super New Taste to Add to Your Juul Pod Collection.
Juul Pods: Creme Flavor
We All Deserve a Treat Now and Then, and the Ultimate Treat in the Form of Juul Flavor Pods is the Creme Brulee. Sweet Custard and Vanilla Flavors Are Combined for a Sensational, Yet Not Too Overwhelming Vape That'll Have You Politely Declining Dessert After Dinner and Reaching for Your Vaporizer Instead!
Juul Pods: Classic Menthol Flavor
This Juul Pod Flavor Will Take Your Breath Away. It's Got All the Classic Icy-smooth Refreshment of Menthol, While Giving You the Customary Juul Hit You Need. It's Literally a Breath of Fresh Air, and One That Will Leave You Feeling Totally Satisfied.
Juul Pods: Fruit Medley Flavor
Formerly Known as 'fruut', This Juul Pod Flavor is Not Just Refreshing; It's Exotic and Just a Little Bit Moreish! A Perfect Alternative to a Normal Tobacco Imitation Vape, Keep This Juul Pod Flavor Handy Whenever You Fancy a Change of Pace.
Juul Pods: Classic Tobacco Flavor
To Those Who Pine for the Old Days of Original Tobacco Taste, Your Vaping Experience Has Arrived! Juul Classic Tobacco is Awesomely Aromatic and Delivers the Kind of Throat Hit You Desire. The Flavor is Not as Strong as Juul Virginia Tobacco, So You Can Kick Back and Enjoy the More Subtle Taste of Juul Classic Tobacco at Your Leisure.
Juul Pods Russian Version Packing List:
1 X 4pcs Salt Nic Oil Cartridge
Pe, Myle Pods, Device & Disposable, Stig Disposable, Tugboat Disposable, Micko Veiik, Yuuto Dubai Iqos Heets, and All Brand Salt Nic E Juice in Dubai Uae. Delivery Available to Vape Dubai Also Free and Fast Delivery on Buy 400 Aed. You Must Be at Least 21 Years Old to Purchase Products on Mvapedubai Store