AUTHENTIC Nasty E-juice 60 MlB IN DUBAI
Wicked Haze by Nasty E-juice 60 Mlb is a Mix of Blackcurrant and Lemonade That Creates an Incredibly Extraordinary Exhale Taste.
Devil Teeth by Nasty Juice Presents a Smooth Summery Atmosphere Best Describes the Fresh Honeydew Flavor.
Fat Boy by Nasty Juice is a Genius Blend of Ripe Mango and Exotic Mango of the East. The Smell of Mango is Aromatically Pungent Yet Not Too Overpowering.
Trap Queen by Nasty Juice E-liquid Contains a Flavorful Ripe Strawberry Fruit Freshly Harvested From Farm. You'll Be Thrilled With the Freshness and the Sweetness That Will Make You Feel Like You're in a Strawberry Farm.
Asap Grape by Nasty Juice is a Black Grape Combined With Ripe Berry and Other Fruits Alike Produces This Delicious Grape Juice.
An Assortment of the Best Tasting Berries is Awaiting. Red Cherries, Tart Raspberries and Flavourful Blueberries All Come Together Perfectly to Produce a Great Summer Flavour.
This Juice Was Specifically Created for Low-output Atomizers/devices. We Recommend That You Fill This Juice in Any of Devices Found in Our Refillable Systems Section.
Nasty E-juice 60 Mlb by Nasty Juice is Malaysia's top e-juice Brand designed to give you a rich, fruity yet smooth vaping experience.
Nasty Brand's initial mission is to help curb people's smoking habits and produce a means to quit smoking entirely. The nasty Brand's recent goal is to show that vaping is more than just vaping. It encompasses people's lifestyles also health wellbeing.
That is why, besides E-juice flavors, Nasty Brand also produces smoking cessation devices and products such as merchandise. Nasty started with Malaysia and Malaysians in mind, but now Nasty has also set sight to the international market.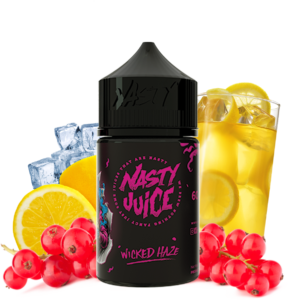 NASTY E-LIQUID 60ML ejuice All in one:
Nasty is from Tampin, Malaysia, and is crafted with high-grade premium ingredients. Expect a clean and crisp vaping experience from the Brand Nasty Juice. They have taken unique flavors and masterfully blended them to give you a well-rounded and tasty vape juice.
With a variety of high-quality E-liquids, there is a flavor for everyone. If you enjoy tasty candy flavors, Nasty E-juice 60 Mlb has got you covered. Do you want to kick back and relax with delicious lemonade flavors, or do you need to chill out with some menthol? Nasty Juice has something for you.
Any flavor you pick from their delicious lineup will be a worthy candidate to be your next all-day Vape. Also, enjoy nasty salt nic, available now in UAE.
NASTY E-LIQUID 60ML ejuice has the following flavors in the low mint Series:
nasty asap grape

nasty bad blood

nasty Cushman mango

nasty Cushman mango banana

nasty Cushman mango grape

nasty Cushman mango

 strawberry

nasty devil teeth

nasty fat boy

nasty green ape

nasty slow blow

 nasty tobacco bronze blend

nasty tobacco gold blend

nasty tobacco silver blend

nasty trape queen

nasty wicked haze

nasty sicko blue

nasty stargazing
Nasty E-Liquid 60mL BACKGROUND OF NASTY JUICE 
If you looking for Nasty E-juice 60 Mlb Then MVAPEDUBAI is here. It is undeniably Malaysia's most popular vape juice brand. Started by Shariffudin Bujang (aka Pak Din) and Azizul Ridzuan from their humble beginnings in a small town called Tampin in Malaysia, their products have reached vapers in no less than 72 countries.
Their tantalizing flavors and unique artwork on attractively designed bottles have won the hearts of vapers worldwide, becoming one of the most recognizable vape juice brands in the world.
They have also won numerous international vape awards, including:
Best Menthol/Mint of the Year 2018

 from Vaper Expo Birmingham for Nasty Juice Slow Blow (Pineapple with Sweet Lemonade, Low Mint).

Industry Leader For Marketing & Branding for 2018

 from Vape Dubai king UAE

1st Place for Best Branding & Marketing 2019

 from Vape Dubai king UAE
If you've vaped Nasty E-juice 60 Mlb before, you'll know you can always count on them to deliver a premium unboxing experience followed by an eruption of flavors in your mouth when vaping.