AUTHENTIC SHUMAKE 6000 PUFFS DISPOSABLE VAPE
Shumake 6000 Puffs Disposable Vape has a large area of stylish coating, giving this disposable a cute and fashionable appearance. With its 5% synthetic nicotine and 15ml vape juice capacity, it is certain to satisfy your taste due to its abundance of flavor, and it provides you with up to 6000 puffs to guide your taste buds to continue craving with ease.
Shumake Disposable Vape is intended to provide you with an efficient way to have a dream vaping session. It has a 650mAh internal battery that is rechargeable via Type C, a 1.1ohm built-in Mesh coil, and an equally matched 13ml pre-filled capacity.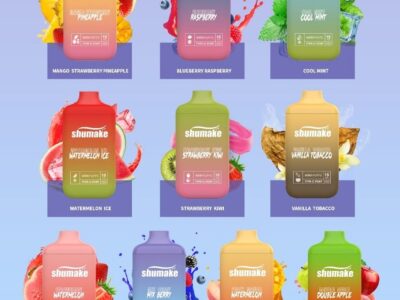 SHUMAKE 6000 PUFFS DISPOSABLE FEATURES:
Brand: SHUMAKE
Coil Mesh Inside
5% nicotine
15 ML of e-juice.
Per device, 6000 puffs
Type-C USB Charging Port
Battery: 500 mAh
AVAILABLE FLAVORS:
Strawberry Watermelon
Peach Mango watermelon
Vanilla Tobacco
Strawberry Kiwi
Double Apple
Cool Mint
Watermelon Ice
Mango Strawberry Pineapple
Blueberry Raspberry
Mix Berry