New Authentic Smok Nord Kit In UAE
Smok Nord Kit is a Newly Designed Button-triggered Pod System Device. It Has 1100mah Battery Capacity, Extremely Large Among Pod System Devices, Making It a Definitely Powerful One! It is Equipped With Two Exclusive Coils, Nord Mesh 0.6ω Coil and Nord Regular 1.4ω Coil, One is Perfect to Get Massive Vapor; the Other Can Offer Excellent Mtl Experience.
It Also Has a Perfect Size for You to Hold in Hand, a Newly Added Button to Start Vaping and Provide Information About Battery Life, Besides, There's an E-liquid Window on the Pod, All of Which Are for Your Convenience! Innovation Keeps Changing the Vaping Experience!
Nord is a Distinctive Pod System Device, It is a Button-triggered One With Large Battery Capacity, and It Has Cobra Covered at Main Body to Offer an Exquisite and Wild Look. Whatever in Appearance or Function, This One Won't Let You Down. Different With Normal Pod System Devices, Nord is a Button-triggered One,you Need to Fast Press the Button Five Times to Power on the Device and Long Press the Button to Vape. Same Operations With Box Mods.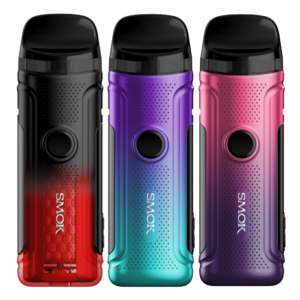 Nord's Mouthpiece Continues the Duck-billed Design, but It Also Has a Great Improvement, With a Lip Curve on It, This Mouthpiece Could Perfectly Fit Your Mouth and Offer Better User Experience. Nord Has a Size of 94 X 30 X 18.8mm, Which Make It an Easy Thing to Put This Device in Bags or Pockets. Wherever You Go, Nord Can Be a Good Company.
In This Kit, There Are Two Coils Included: Nord 0.6ω Mesh Coil and 1.4ω Regular Coil. The 0.6ω Mesh Coil is Specially Designed for Sub Ohm Vaping, It Has a Large Mesh Inside, With Which You Can Get Faster Heating Process and Massive Vapor Clouds; and the 1.4ω Regular Coil is Designed for Mtl Vaping, You Can Enjoy Throat Hit With It.
Smok Nord Kit Specifications:
Size: 94 × 30 × 18.8mm
Battery Capacity: 1100mah
Capacity: 3ml
Power Range: 10w-15w
Powerful Built-in Battery
Single Button Operation
Improved Mouthpiece
Large E-juice Capacity