TUGBOAT HERO 8000 PUFFS BEST DISPOSABLE IN UAE
The Tugboat Hero 8000 Puffs is now available, a revolutionary disposable vape pen that will undoubtedly impress vaping enthusiasts. With an astounding 8000 puff capacity, this device has one of the highest puff counts on the market, providing users with a long-lasting vaping experience without the need for refills or battery replacements.
This disposable vape pen has an 18ml e-juice capacity and a nicotine strength of 5%, allowing for a smooth and satisfying vaping experience that will satisfy your cravings. It also has a 1.0ohm mesh coil, which provides a consistent and smooth draw, making each puff as pleasurable as the last.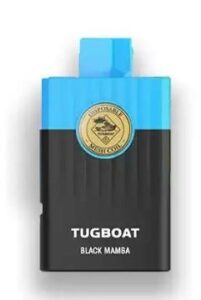 TUGBOAT HERO 8000 PUFFS DISPOSABLE IN DUBAI
The Tugboat Hero 8000 Puffs also has a 500mAh battery capacity, allowing it to be used for an extended period before needing to be recharged. It also has a Type-C charging port, which allows for quick and easy charging, making it a convenient and hassle-free option for on-the-go vapers.
Overall, the Tugboat Hero 8000 Puffs is a fantastic disposable vape pen that lives up to its promise of providing an exceptional vaping experience.
TUGBOAT HERO 8000 PUFFS DISPOSABLE FEATURES:
Puffs: Appro 8000 puffs
Ejuice Capacity: 18ml
Nicotine Strength: 5%
Resistance: 1.0ohm Mesh Coil
Battery Capacity: 500mAh
Charging Port: Type-C
AVAILABLE FLAVORS:
Lush Ice
Strawberry Mango
Purple Rain
Aloe Grape
Mango Melon
Watermelon Bubble Gum
Guava Blue Razz
Black Mamba
Red Energy
Cool Mint