US VAPE 6500 X BAR BEST DISPOSABLE IN UAE
The disposable US VAPE 6500 X Bar vaporizer has a 6500 puff capacity! The compact, fashionable device is ideal for on-the-go vaping. Because of its simple design, the US Vape X Bar consistently provides a satisfying and powerful vaping experience. There's also a 16ml bottle of E-liquid with a 65000 puff capacity and a 650mAh rechargeable Type-C battery.
The Us Vape is a trendy vaping device. Simply put, it's a mouthwatering vape. A refreshing and unforgettable experience is created by the combination of cool watermelon and an icy breeze.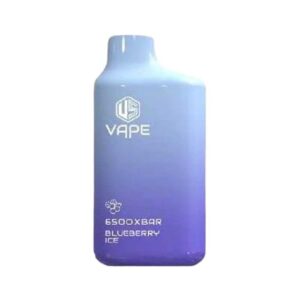 US VAPE 6500 X BAR FEATURES:
Nicotine: 5%
Puffs: Up To 6500
Juice Capacity: 16 ml E-Liquid
The battery capacity of 650 m Ah (Rechargeable with type-C)
Flavors: 11 Types.
The UAE's Best Disposable Shop
If you're looking for a dependable and reasonably priced disposable shop in Dubai, look no further than our website. We always strive to deliver your orders as soon as possible and have the most competitive prices in the UAE. Furthermore, to ensure that you have a pleasant shopping experience, we provide customer service 24 hours a day, seven days a week. Utilize our disposable shop, which is the best in town! Additionally, our fast shipping ensures that your order arrives on time. So, what's the point? It is finally time to reap the benefits of disposable vaping!