VAAL EP4500 PUFFS DISPOSABLE IN UAE
Looking for a high-quality, long-lasting vaping experience? Take a look at the VAAL EP4500 puffs disposable vape device! Because of its impressive 4500-puff capacity, this sleek and compact device is ideal for on-the-go vaping.
It's straightforward design and pre-filled e-liquid make it an appealing option for both experienced and inexperienced vapers. Furthermore, with so many mouthwatering flavors to choose from, you're bound to find your new favorite vape juice. For the ultimate in comfort and satisfaction, try the VAAL 4500puffs today.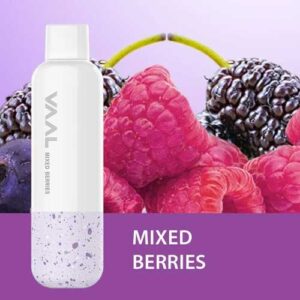 VAAL EP4500 PUFFS FEATURES:
4500 Vaping Puffs Disposable Pod
Integrated 400mAh Rechargeable Battery
Wide Wick technology
Mesh Coil 1.2ohm
9.5ml Large E-liquid Capacity
Nic. Strength:2% Synthetic Nicotine
VAAL EP4500 PUFFS DISPOSABLE VAPE  IN DUBAI
The draw-activated firing mechanism of the VAAL EP4500 vape sets it apart from other disposables on the market in several ways. Because there is no learning curve, even beginners will find vaping simple. To use the device, first depress the pin. Wait at least three minutes before using the device.
Variable airflow is not something you'd expect from a disposable item. The VAAL EP4500's designers included this feature, however, so that customers could benefit from the variety that comes with more advanced technology.
AVAILABLE FLAVORS:
Grape Ice
Mint
Mixed Berries
Strawberry Kiwi
Strawberry Watermelon ice
Cherry Coke
Coconut Ice cream
Lemon Kiwi
Strawberry Grape Energy