Vabar Plus V2 1000 Puffs
Vabar Plus V2 1000 puffs is Our Upgraded Version of Vabar Plus to Meet Vape Lovers Expectation of Big Puff Counts, We Have Improved the Capacity to 1000 Puffs. Besides, We Made a Breakthrough on Our Product Id and Adopted Bright Comic Design, Hoping This Will Bring Our Users a Refreshing Moment.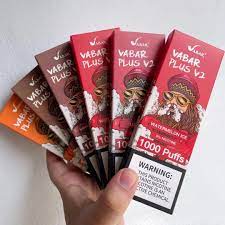 Consistently We Have Optimized Coil Resistance and Puffing Pressure to Bring Big Cloud and Rich Flavor. There Are 10 Strictly Selected Flavors With 2 Salt Nicotine Concentration 5% Wishing Both Heavy and Light Smokers Could Find Out His One From These 10 Options. Vabar Plus V2 is Still Designed With Portable Size. You Could Take It Along With You Anytime. Let's Enjoy Vaping in Vabar!
Specifications:
Coil Resistance: 1.6ω
E-liquid Capacity: 2.4ml
Nicotine Strength: 5%
Puffs: Approx. 1000 Puffs
Packaging Includes: