VXPE 5000 PUFFS BEST DISPOSABLE IN UAE
It was designed with smokers in mind who wanted a healthier alternative to tobacco in mind. Vxpe 5000 Puffs DISPOSABLE VAPE IN UAE is a simple device that will easily fit into your budget. No prior vaping experience is required because using a vape is simple and does not require any conservation.
Furthermore, refillable coil replacements are not required. This is done so that the VXPE can be replaced after the battery or E-juice has run out. Depending on the strength of your draw, each disposable device's prefilled 10 ccs of swab nicotine E-juice can produce up to 5000 airs cigarettes.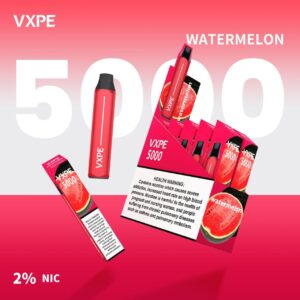 VXPE 5000 puffs Features:
VXPE Rechargeable Disposable Vape
Puffs: 5000 puffs
Nicotine: 5%-2%
E-juice Capacity: 10ML
Battery: 600mAh
Charging: Type-C
Mesh Coil
The Best Disposable Shop in the UAE
Look no further than our website if you're looking for a dependable and reasonably priced disposable shop in Dubai. We always strive to deliver your orders as quickly as possible while maintaining the most competitive prices in the UAE. Furthermore, we offer customer service 24 hours a day, seven days a week to ensure that you have a pleasant shopping experience. Make use of our best disposable shop in UAE! Furthermore, our quick shipping ensures that your order arrives on time. So, what exactly is the point? It is finally time to enjoy the advantages of disposable vaping!