New Voopoo Drag X 80W Box Kit In MVAPEDUBAI
Voopoo Drag X 80w Pod Mod Kit is a new single 18650 pod mod kit from Voopoo drag series. It features the innovative GENE.TT chipset. VOOPOO DRAG X kit which inherits all the advantages of Voopoo Drag, and is compatible with all PnP series coils.
With the alloy and leather construction, drag X comes with a compact design that fits in the palm of your hand. The pod of Voopoo Drag X 80w pod can hold 4.5ml e-liquid and includes 0.15ohm PnP-VM6 coil and 0.3ohm PnP-VM1 coil for nice vaping.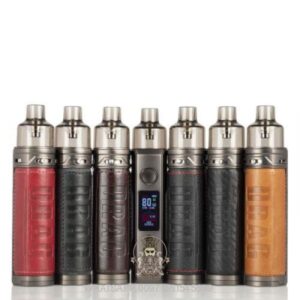 Voopoo Drag Features:
 New SCORE RANKING mode
 Advanced GENE.TT chipset
 Ergonomic design with comfortable hand feeling
 Large 4.5ml capacity and infinite airflow system
 Compatible with all PnP coils
Package includes:
1x Voopoo Drag X Pod device (No cell)
1x Voopoo Drag X Pod
1x 0.15ohm PnP-VM6 coil
1x 0.3ohm PnP-VM1 coil
1x USB Type-C Cable
1x Warranty card
1x User manual
1x Chip card