Vabar Supra 7000 Puffs Disposable Pods
Vabar Supra 7000 Puffs Disposable Pods' New Rechargeable Super-large-capacity Disposable Vape Device Has Come Out! It's Supra! The E-liquid Volume Reaches 16ml, Which is Around 7000puffs. As You See, It's Unique Private Modeling With a Classic Fluent Outline and the Special Idea of Colorful Jelly-looking Patches Make It the Most Special Existence in the Entire Vape Market.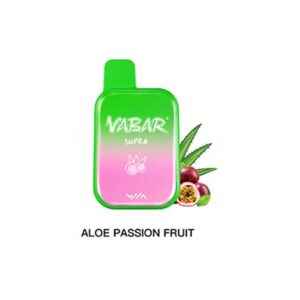 Vabar Supra 7000 puffs  Disposable Contains a 650mah Battery With a Type-c Charging Port, So Yes, It's Rechargeable! It is Supported by Various Luscious Flavors Including Fruits, Mint, Drink, Tobacco, and Candy Flavors. By Adopting the Mesh Coil, Supra Highly Conveys the Original Flavor With Proper Throat Hits. We Believe Supra is a Good One and Hope It Can Bring You a Joyful Vaping Experience!
Vabar Supra Disposable Pods Specs & Features:
Type: Disposable E-cig
Size:89*51.5*20mm
Coil Resistance: Mesh Coil 1.2ω
Battery Capacity: 650mah+type C Rechargeable
Liquid Volume: 16ml
Salt Nicotine Level: 2%(20mg)/5%(50mg)
Puffs Counts: 7000 Puffs
Material: Pc+pctg(Food Grade)
Net Weight:63.5g
Vabar Supra Disposable Pods Package List:1 X Vabar Supra
7000 Puffs E-cigarette in Pack
10x Vabar Supra 7000 Puffs E-cigarette in Box