Vabar Joyh 5000 puffs Rechargeable Vape
Vabar Joyh 5000 Puffs Rechargeable Disposable Large-capacity E-cigarette Has Come Out! It's Joyh! The E-liquid Volume Reaches 12ml, Which Allows 5000puffs. It Contains 15 Excellent Flavors Including Fruits, Mint, and Candy Flavors.
With the Mesh Coil, Joyh Can Highly Convey the E-liquid's Original Flavor and Provide the Purest Taste and Satisfying Throat Hit. The Rich Gradient Colors Make It Looks Very Energetic. Most Important, It Can Be Recharged, No Need to Worry About Running Out of Power. Believe Joyh is Special and Good! Let's Enjoy Vaping in Joyh!!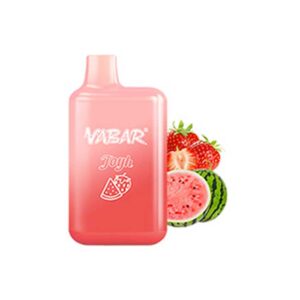 Vabar Joyh 5000 Puffs Rechargeable Disposable Specifications:
Type: Disposable E-cig
Size: 19.2*41*81.3mm
Coil Resistance: Mesh Coil 1.2ω
Battery Model: 16350
Battery Capacity: 650mah+type-c Rechargeable
E-liquid Capacity: 12ml
Salt Nicotine Level: 2%
Puff Counts: 5000 Puffs
Vabar Joyh 5000 Puffs Rechargeable Disposable Available Flavours:
Lush Ice
Blueberry Ice
Energy Drink
Grape Ice
Blue Razz
Mango Ice
Cool Mint
Banana Ice
Strawberry Ice
Double Apple
Strawberry Kiwi
Tropical Fruit
Skittles
Rainbow Candy
Watermelon Strawberry
Packaging Includes:
1 X Vabar Joyh 5000 Puffs Rechargeable Disposable