AUTHENTIC FUMO KING 6000 PUFFS DISPOSABLE VAPE 
The FUMO KING 6000 Puffs Disposable VAPE is now available in the UAE. The FUMO KING is the market's most advanced disposable e-cigarette. It's a simple, convenient way to satisfy your nicotine cravings without making a mess or causing a problem.
Our VAPE Disposable has a strong, secure design and is made of high-quality materials. It has a 6000-puff capacity and can be refilled to maximize vaping while conserving VAPE.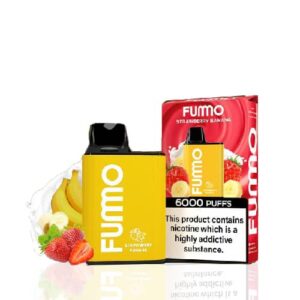 FUMO KING DISPOSABLE VAPE IN DUBAI:
The FUMO KING Disposable is the best disposable battery for use in watercraft because it is more stable and long-lasting than other boats.
The FUMO KING 6000 Puffs Disposable battery has a higher caFumo King 6000 Puffspacity, a longer life, and superior performance when compared to traditional disposable batteries.
Vape Disposable FUMO King 6000 Puffs This sleek, portable device is ideal for on-the-go vaping. The simple design of the FUMO King ensures a delicious and potent vaping experience every time. The FUMO King is an absolute must-have for any vaper, whether at home or on the go.
The FUMO King Disposable Vape is intended to be a painless way for you to enjoy a dream vaping session. It has a 650mAh internal battery that can be recharged via Type C, a 1.1ohm built-in Mesh coil, and a 13ml pre-filled capacity. A FUMO king selection is the way to go if you like to vape nicotine salts by rotating through different flavors.
FUMO KING 6000 PUFFS FEATURES:
Product name: FUMO KING

battery: 650mah rechargeable

Power: 7-12w

Voltage: 3.7v

content: 12 ml

Resistance: 1.6

Puffs: 6000 puffs

Start Mode: Sensor
Available Flavors:
Blueberry

Grape

Pina Colada

Mint

Strawberry Watermelon

Watermelon

Green Mango

Blackcurrant

Cigar Cream Tobacco

Cranberry Grape

Mango Passion Fruits

Melon

Tropical Fruits

Cola Ice (Black Edition)

Strawberry Watermelon (Gold Edition)

Mango Peach

Strawberry Banana

Peach

Mango

Mixed berries

Double Apple Ice

Strawberry Mango (Gold Edition)

Pomegranate Apple Blueberry

Strawberry Ice Cream

Mango Aloe

Kiwi Guava Passion Fruit

Pomegranate Berries

Blueberry Ice

Watermelon Bubblegum

Lemon Cherry

Juicy Melon

Candy

Energy Ice

Blueberry Raspberry

Grape Guava Blackcurrant

Fresh Mint

Watermelon Ice

Strawberry Kiwi

Melon Peach Grape
Our ultimate goal is to satisfy each and every customer, from the moment you purchase our products throughout its lifetime.