POD SALT NEXUS 3500 DISPOSABLE VAPE
The Pod Salt Nexus 3500 is a disposable vape that has been improved in terms of functionality and portability. This slim and stylish vape device comes in a variety of our core flavors, all of which are infused with Pod Salt's award-winning nicotine salt.
The disposable Pod Salt Nexus devices have evolved to include a more powerful 1350mAH battery powered by cutting-edge technology.
Vape for an extended period of time to enjoy quality flavors and nicotine salts. The nicotine strength of the Pod Salt Nexus is also unaffected, with each puff containing 20mg of nicotine salts.
The new Pod Salt Nexus disposable vape device is designed to be used anywhere and is small enough to fit in your pocket, making it ideal for an active lifestyle.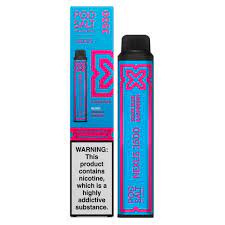 POD SALT NEXUS 3500 PUFFS FEATURES:
Battery Capacity: 1350mAH built-in battery
Nicotine content: 2% Nic Salt
Draw Activation
Unique style design
Compact & Easy to Pocket
Choice of Many Flavors
Puffs Count: 3500
Battery 3.7V 5.00Wh
AVAILABLE FLAVORS:
Blackcurrant Apple Grape
Blackcurrant Raspberry Lemonade
Blue & Black Raspberry
Sour Blue Raspberry
Blueberry Peach Candy
Kiwi Guava Passion
Peach Mango
Pink Citrus Lemonade
Strawberry Energy