Authentic Vgod Pod 1k Disposable Vape In UAE
The Vgod Pod 1k Disposable Vape Pod Devices Are the Newest Creation From Vgod! It Features a Specifically Unique Design With Salt Nic. This Disposable Vaporizer Accommodates 1500 Puffs, and is Meant to Be Disposed After Life Cycle.
The VGOD POD 1K Disposable Pod Devices have a maximum e-juice capacity of 4ml and are filled with 50mg of salt nic. Each POD 1K disposable vape pod device comes a single device (1). This device requires no maintenance due to it's simple and disposable nature. The POD 1K features no buttons and is automatically activated when you inhale.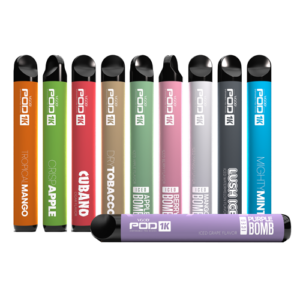 VGOD – POD 1K DISPOSABLE DEVICE Features:
Dimensions: 16″ x 16″ x 94.5mm"
Disposable Design
No Maintenance Required
Improved Battery
Lightweight and Thin Design
Utilizes 4ml Capacity Non-Refillable Design
50mg Salt Based Nicotine Flavors by SaltNic and VGOD
Approximately 1500 Puffs for (1) POD 1K Device
VGOD – POD 1K DISPOSABLE DEVICE Flavors:
Tropical Mango
Mighty Mint
Cubano
Lush Ice
Iced Mango Bomb
Iced Apple Bomb
Iced Purple Bomb
Iced Berry Bomb
Dry Tobacco
Crisp Apple
VGOD – POD 1K DISPOSABLE DEVICE Includes:
1x VGOD – POD 1K DISPOSABLE DEVICE