TIKOBAR 6000 PUFFS DISPOSABLE VAPE IN UAE
The TIKOBAR 6000 Puffs Disposable Rechargeable Pod Device has a large area of stylish coating, which gives these disposables a smart and fashionable appearance. Its abundance of flavor is certain to satisfy your taste, and it provides you with up to 6000 puffs to guide your taste buds to continue craving with ease, using its 5% synthetic nicotine and 15ml vape juice capacity.
TIKOBAR Vapor is a single-use product. This disposable vape pen is ideal for anyone looking for a convenient way to vape. It has a 600mAh battery and a 5% nicotine salt mixture. It also has a Type-C charger, which makes charging easier. What are you still holding out for?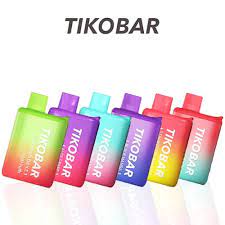 TIKOBAR 6000 PUFFS DISPOSABLE FEATURES:
Brand: Tikobar
Puffs: 6000
Nicotine: 5%
Nicotine Type: Salt Nicotine
Capacity: 15ml
600mAh Battery Capacity
Charger: Type-C
Resistance: Mesh coil
Firing Mechanism: Draw-activated
AVAILABLE FLAVORS:
Watermelon Ice
Aloe Grape
KPG
Cotton Candy
Black Mamba
Blue Razz
Strawberry Mango
Grape Wine
Watermelon Bubble Gum
Hawaiian Fruit