STIG VGOD BEST DISPOSABLE VAPE IN DUBAI UAE
STIG VGOD DISPOSABLE VAPE The Volcanic Vapor Cigar is a revolutionary fusion of two well-known products. This vape combines the greatest features of the Volcano and Stig vaporizers. Its unique look makes it the perfect companion for every situation, no matter where you are in your home. You'll be happy you have the Volcano Vapor Cigar when you're ready to enjoy a robust, flavorful cigar.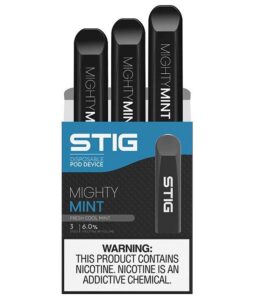 STIG VGOD DISPOSABLE Specifications:
Integrated Device
Activated Draw System
60mg of E-Liquid in a 1.2ml E-Liquid Capacity with Flavor Profiles Below Non-Refillable
Completely Disposable for Up to 270 Puffs per Life Cycle
STIG VGOD Disposable Tastes:
VGOD Cubano – 60mg
A sprinkle of creamy vanilla adds a fresh and sweet Cuban tobacco flavor to the silky VGOD Cubano cigar. Each Device comes with 1.2ml of Salt Nicotine E-Liquid. available as a three-pack (3).
VGOD Lush Ice – 60mg
Lush Ice by VGOD is a smooth and delicious all-day vaping experience with a tantalizing explosion of fresh watermelon on the inhale and sweet undertones of blended melons and menthol on the exhale.
VGOD Mighty Mint – 60mg

Mighty Mint by SaltNic is an appealing all-day vape that provides a cold, refreshing mint with just the right amount of menthol.
VGOD Tropical Mango – 60mg 
Every puff of SaltNic's Tropical Mango gives you a rush of delectable flavor to last the whole day, with a sweet mango taste and a hint of zing.
VGOD Iced Mango Bomb – 60mg

Your senses will be revived by SaltNic's Iced Mango Bomb, which combines a wonderfully ripe mango with fresh menthol. You won't need to seek elsewhere for a superb fruit menthol vape after trying this flavor!
You need to have the technical know-how and a complete grasp of how this product functions in order to utilize it as Vgod officials recommend.