AUTHENTIC Love Salts SaltNic 30ML IN DUBAI
I Love Salts SaltNic 30ML by Mad Hatter E-Juice is a revamped blend of mythical blue raspberries touched with a hint of menthol to create a powerful nicotine salts formulation that will revive the spirit. Saltnic Dubai
Warning: Love Salts SaltNic 30ML is not meant for use in devices that reach sub-ohm resistance. We recommend this liquid to be used in vape pod system and ultra low-output atomizers/mods. Every nicotine salts e-juice contains significantly higher levels of nicotine per milliliter, optimal for beginners or experienced vapers looking for a travel-friendly experience.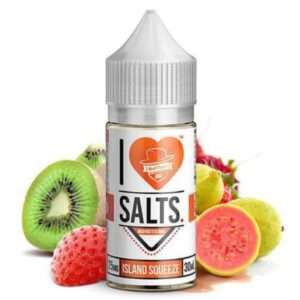 I Love Salts – Features:

30mL Unicorn Bottle
50% PG
50% VG
Child Resistant Cap
Nicotine Salts Formulation
Crafted For Ultra-Low Wattage & Pod-Based System
Made in USA
Available nicotine: 25mg, 50mg
Manufactured by Mad Hatter E-Juice
Available
Blue Raspberry Ice: If you're wild about sour and sweet blue raspberries and crave that cold menthol blast, you'll fall instantly for I Love Salts Blue Raspberry Ice. Tart and sugary blue raspberry candy is given the menthol treatment, resulting in a flavor that invigorates on every level.
Classic Tobacco: I Love Salts SaltNic 30ML Classic Tobacco vape juice is perfect for vapers that can't get enough of that rich and nutty cured tobacco flavor. Mad Hatter Juice is proud to present this classic tobacco juice that will satisfy anyone who's a fan of toasted tobacco flavored juice.
No nasty smells or messes: I Love Salts SaltNic 30ML Classic Tobacco is a nicotine salt e-liquid that's way above and beyond those inferior traditional tobacco flavors that are out there. Every inhale and exhale gives the palate that familiar, traditional blend that simply leaves you feeling relaxed.
Classic Menthol: I Love Salts Classic Menthol vape liquid is the ideal nic salt for vapers who prefer a refreshing menthol sensation. The cool minty taste offers a light, invigorating experience that you'll want to return to again and again.
Strawberry Ice: You'll love this flavor of succulent strawberries and chilly menthol. The invigorating tang of perfectly ripe strawberries bathes your taste buds, refreshing you on a profound level.
Blue Strawberry: I Love Salts Blue Strawberry vape juice is an exquisite blend of fresh tropical fruits from the Pacific region that will have you feeling like you're on a island beach with a cocktail made from silky coconut milk, freshly squeezed pineapple juice, and ripe strawberries.
Pink Lemonade: I Love Salts SaltNic 30ML Pink Lemonade vape juice is a remarkably refreshing lemonade flavor that's infused with the fresh tropical and seasonal juices of crisp pineapples and mouthwatering watermelons.
Strawberry Guava: I Love Salts Strawberry Guava vape juice allows you to escape, even if it's just for a moment, to your own tropical vape paradise. Strawberry Guava vape juice will transport you to an island filled with outrageously juicy kiwis, dazzlingly sweet strawberries and exotic guavas, all joining forces to soothe you with intense fruity splendor.
Tropic Mango: I Love Salts Tropical Mango delivers nothing but intense mango flavor that tastes exactly like the real thing. Every hit provides your taste buds with an escape to paradise by bathing the tongue in that exotic mango taste. Your thirst will be completely satisfied as that enchanting nectar drips down the tongue.
Blue Raspberry: I Love Salts SaltNic 30ML Blue Raspberry is a sweet and sour flavor explosion. This blue raspberry candy saturates your tongue in mouth-puckering tartness before sending your sweet tooth to sugar heaven.
Sweet Tobacco: Tobacco has been used by humans for over 2,000 years — it's a classic flavor, and we're proud to now offer Sweet Tobacco as a salt nicotine e-liquid variety. Our sweet tobacco flavor is rich and complex, blending the smooth nuttiness of earthy tobacco with a hint of sweetness that keeps the taste from ever being bitter. Tobacco lovers, rejoice: this is the flavor you've been searching for.
Sweet Strawberry: Are you the kind of person that picks out the pink and red candy and discards the rest? Yeah, this mouth-watering Strawberry Candy flavor is for you. Satisfy your sweet tooth with this fruity treat, available in both 25mg and 50mg nicotine concentrations. Best of all, the salt nicotine format keeps this delicious flavor of e-liquid effective and simple to use.
Spearmint: It's like getting in your car and turning on the air conditioner on a scorching hot day. That first blast of refreshment is euphoric — and we've distilled that essence into our new Spearmint salt nicotine flavor. If you like to keep things simple, fresh, and cool, this is the flavor for you. Paired with the already smoother feel of salt nicotine, this arctic blast will keep you feeling breezy all day long.
GrappleBerry: Some flavors just go well together. Blueberry, apple, and grape combine for a luscious burst of fruit flavor that unfurls its complexity with each vape hit. Enjoy the smoother experience of salt nicotine alongside this heavenly blend of your favorite fruits — and reach new heights of tangy sweetness as you're enticed by one zesty flavor profile after another.
Juicy Apples: Few pleasures in life are quite like biting into a crisp apple and having those succulent juices explode with fruity flavor. We've recreated that feeling with our Juicy Apples salt nicotine e-liquid, available in 25mg or 50mg nicotine concentration. It's sweet and tangy without being syrupy or cloying, and if you love the luxurious feeling of taking that first bite of apple, you're going to love this vape juice.