New Authentic MYLE Pods V4 In UAE
Explore the convenience of our pre-filled Myle pods V4. This amazing flavor from MYLÉ combined with our leak proof pod is perfect for those looking for the simplest and hassle-free vape experience. These Flavor Pods come prefilled with SaltNic vape juice, designed to be used with MYLÉ Devices/ Kits.
Brand: Myle Vapor
Myle pods V4 Profile:
Lemon Mint: Reminisce on your favorite glass of freshly squeezed lemonade infused with just the right amount of mint leaves. Perfectly sweet with just a splash of sour, this is sure to be a refreshing delight for all the lemon vape lovers. Each inhale will treat you to a heavenly fusion of zesty lemon and fresh mint, and you will be left rejuvenated with every exhale.
Peach: Get ready for a trip down South with a delightful blend of perfectly ripened and juicy Georgia peaches.  A flavor-filled with a sweetness that's sure to deliver an irresistible creation while capturing the true to life taste of sun-ripened peaches.
We have created a perfect blend of mouthwatering notes of sweet and juicy peaches on the inhale with a refreshing aromatic exhale that will leave you wanting more. Sweet as a southern sumNimer day, this flavor is sure to satisfy your every peach desire.
Sweet Mango: Experience a perfect blend of the sweetest mangoes from inhale to exhale. Perfectly ripe and bursting with flavor; this is a tropical vape that's sure to satisfy your taste buds. The consistency of pure mango bliss and deliverance of the sweet qualities of the real fruit, are sure to leave you reaching for more. Your taste buds will thank you.
Red Apple: A simple, yet perfectly balanced flavor, that perfectly recreates the freshly picked orchard apples we wish we could have year-round. Experience a sweet and juicy inhale with a crisp red apple swirl on the exhale.
Iced Quad Berry: Tailor-made for the berry lovers. This exotic blend features a unique four flavor combination of black currants, blackberries, blueberries, and raspberries, with a hint of mint added for good measure. This union of cool and consistently delicious flavors provides the ideal all-day-vape experience.
Iced Apple Mango: Venture into paradise with the perfect blend of crisp mouth-watering green apples and sweet succulent mango nectar, topped off with a subtle touch of coolness. These iced natural sugars collide to create a vape that is guaranteed to keep you satisfied throughout the day.
Iced Coffee: For those who wake up with the excitement of brewing a fresh dark roast, drink it all day, just to then have coffee dreams when they sleep, this one's for you. No need to head to the coffee shop; your personal Myle Vapor barista is serving up some of the best iced coffee you've tried.
Our coffee blend is greatly accentuated by the cool undertone that makes it a very distinct Frappuccino style vape. The sublime taste of cold coffee will wake up your taste buds and get you ready to take on the day. Not too bitter, not too rich, a perfect all day vape.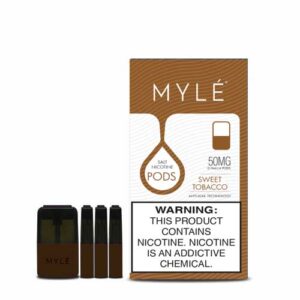 Pound Cake: Presenting to you your coffee shop favorite; a perfectly baked and frosted slice of buttery pound cake; welcome to your new sweet craving. This classically sweet flavor boasts notes of buttery goodness, explodes with creamy vanilla, and ends with a thick layer of icing. Grab your vape and indulge on your favorite bakery treat guilt-free.
Sweet Tobacco: Our tobacco is a bold and mature flavor with just the perfect pinch of sweetness. A perfectly blended flavor profile that captures the smooth and smoky notes of tobacco and adds a light sweet coating to create the perfect creamy blend.
Tropical Fruit Mix: If you're a true lover of the tropics, then this is the flavor for you. Kick back and relax on a paradise island with every inhale. Surf through a wave of perfectly blended tropical fruits that are sure to excite your senses.
A sweet yet tangy blend of strawberries, starfruit, mango, guava, citrus, and peach that is sure to transport you to that tropical destination you've been dreaming of. Grab a bottle and experience the taste of the islands straight from your vape.
Lush Ice: The classic summer watermelon splash with the perfect amount of menthol to cool you down. A favorite among VAPERS looking for that all day fruity VAPE that Never gets old.
Pink Lemonade: Our pink lemonade is a perfectly fun and fruity flavor that's sure to brighten up your day; a delicious blend of summers most refreshing flavors. Indulge your senses with a perfect recreation of the same pink lemonade you enjoy in your backyard on a hot summer day.
With a mildly tart and sugary sweet flavor profile, our pink lemonade is sure to dazzle your taste buds. Swirls of luscious strawberries mixed with a sweet, yet tart, lemonade, create a thirst-quenching flavor; perfectly completing a pitcher of refreshment.
Iced Mint: Menthol vapers will enjoy the little extra that goes into our Iced Mint.  A smooth and minty mentholated mixture stimulates the mind and wakes the soul with each draw, providing an icy blast with a spearmint aftertaste.
Iced Water Melon: A staple of summer flavors with enough winter ice to keep you cool on a hot day. This invigorating flavor provides a smooth and sweet, freshly sliced watermelon rush that quickly follows with an icy cooldown. The marriage of these two has proved to be widely considered the go-to choice for vapers worldwide.
Cubano: Cubano recreates the authentic flavor of a cigar and tops it off with a dollop of whipped cream. This rich and robust flavor gives you an instant connection to the city of Havana reminding you of everything you love in a finely crafted cigar. Enjoy a dominant refined cigar flavor with subtle notes of sweetness from the comfort of your own vape.
Mighty Mint: Simply refreshing. A minty blast of coolness paired with long lasting satisfaction. The go-to all day VAPE for menthol lovers.
Myle Pods V4:-
A pack of four (4) disposable magnetic MYLÉ Vape pods
Flavors: Iced Quad Berry, Iced Apple Mango, Lemon Mint, Iced Coffee, Pound Cake, Peach, Iced Watermelon, Tropical Fruit Mix, Sweet Mango, sweet Tobacco, Pink Lemonade, Red Apple, Iced Mint, Lush Ice, Cubano, Mighty Mint,
Salt Nicotine (Salt-Nic) E-juice
0.9mL/magnetic pod
5% nicotine by volume/pod
240 puffs/pod (approx.)