New MYLE V1 Portable Vape Device In UAE
The Royal Blue Vape Device by MYLE V1 Portable Vape Device is great for both traditional cigarettes smokers and long-time vaping fans. This automatic Nicotine Delivery System is streamlined, lightweight, stylish, and so easy to use.
Designed by MYLE Vapor and outfitted with the most advanced technology in the vaporizing industry, the Royal Blue Device by MYLE will truly satisfy your cravings for nicotine and take your vaping experience to the next level.
The MYLE V1 Portable Vape Device is one of the most revolutionary vaporizers on the market. It's powered by a 240mAh rechargeable internal battery, which means that you will never have to worry about fumbling with the device to change out the battery; plus, you won't have to shell out more money on replacement batteries, so you'll save a good chunk of cash, too!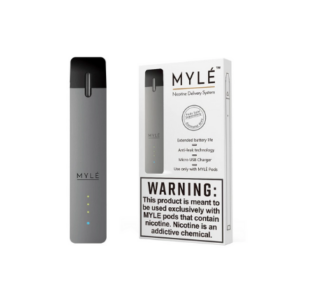 To power up the device, just attach it to the USB cord (which comes with it), plug into a USB port, and you'll be fully charged in no time! Once you're charged up, attach the MYLE pod flavor of your choice, draw on the mouthpiece, and get ready to experience the smooth and oh-so satisfying rush of nicotine and delectable flavor. Unlike other vaporizing devices, there aren't any confusing buttons to push or switches to turn, saving you time and preventing aggravation.
MYLE V1 Portable Vape Device are available in a wide range of flavors and contain a proprietary blend of salt nicotine e-juice. Each pod is prefilled with 0.9ml of e-juice, which contains 5% nicotine by volume. The flavor options include fruity Summer Strawberry, refreshing Mighty Mint, tantalizing Tropical Mango, rich Cubano tobacco, and icy watermelon Lush Ice.
The flavors taste so authentic that you'll swear you're biting into a real strawberry or mango! With each pod, you'll be able to enjoy roughly 240 puffs of super smooth, completely delicious, and extremely satisfying flavor. And, because the pods are leak-proof, there's no need to worry about losing any e-juice or making any messes. With the Royal Blue Vape Device by MYLE and MYLE pods, you'll get the ultimate vaping experience.