Authentic New Juul Pods
Each pack contains 4 pods. Each JUUL pods contains 0.7mL with 18MG nicotine by weight, approximately equivalent to 1 pack of cigarettes or 200 puffs.
The JUUL is a pod vape designed for transitioning smokers. It was one of the first of its kind. It's slim, lightweight and easy to use. It utilizes disposable pods, so it's like a disposable vape. But it's rechargeable, so the only part you dispose of are the pre-filled pods.
JUUL pods come pre-filled with 1.8%, 3% and 5% nicotine salt, and are available in mango, berry, mint, tobacco and menthol. Each pod holds about 0.7 mL of e-juice and they come in packs of two and packs of four pods.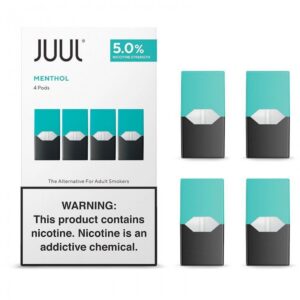 Authentic Juul Vape Device Review
The JUUL is unlike any other e-cigarette or vaporizer. This is one of the closest vaping devices to satisfy analogue cigarette users and perfect for individuals who have had found it difficult to completely transition to vaping. Satisfying for both beginners and experienced vapers looking for a compact and convenient vape.
The JUUL was ahead of its time when it was released in 2015. Our first review of it was in February of 2016. A lot has changed since then. Additionally, the device has come down a lot in price in recent years
Its has been the pioneer in the vape pod mod and cigalike category. The JUUL device Kit is a sleek and stylish e-cigarette that keeps everything simple. From the makers of the PAX electronic cigarette comes this pocket-sized, easy-to-use e-cig vape pen. Giving you a smooth vape with reduced harshness, JUUL delivers absolute satisfaction with the perfect throat hit!
Juul Vape Battery life and charging
For heavy vapers and smokers, you can get close to a half a day on a full charge. If you vape less, the battery might last a day. Ideally, you'll want to fully charge it before your first use, but who really has time for all that? I was able to get a full evening of vaping on it right out of the box without ever charging it.
To charge it, insert the USB dock into your computer and attach the bottom of the JUUL battery to the magnetic contacts. You won't be able to vape it while it's charging unless you remove it, and it charges in under an hour. In fact, my JUUL took closer to 45 minutes to charge up.
JUUL Device Features:
Easy to use. No buttons or switches. Just insert the pod to get started.
Experience freedom from ash and odor. No mess. No fuss.
Designed with smokers in mind, from form to technology to flavor.
JUUL Pods Specifications:
Size:11.5 × 6.5 × 1 cm
Capacity: 0.7ml
Nicotine: 1.8%, 3% and 5%
Resistance: 1.8ohm
Puffs: 200 puffs
What does Juul Pods Mint Flavor Taste Like?
As popular as the Virginia Tobacco JUUL pod flavor is, Cool Mint has it matched step for step. This menthol vape infused with mint is as refreshing as it gets when it comes to using e-cigarettes, giving you that much-needed breath of fresh air, whenever you need it. Juul mint Bold and crisp mint flavour with an icy finish taste and available with 18mg (1.8%) nicotine.
What does Juul Virginia Tobacco Flavor Taste Like?
JUUL's classic tobacco imitation pod flavor is also its most popular. This American-blend style vape is a regular JUUL pod flavor for almost all of its customers, delivering a rich and uncanny taste. The taste kind of deceives if that makes sense.
Sure it's a decent tobacco – certainly better than any of the all-out Big Tobacco company e-liquid blend. However almost as soon as it hits the taste-buds it kind of melts away coming back on the exhale but far too weak for my strong tobacco flavoured preferences and it is available with 3% & 5% nicotine.
What does Juul Menthol Flavor Taste Like?
This JUUL pod flavor will take your breath away. It's got all the classic icy-smooth refreshment of menthol, while giving you the customary JUUL hit you need. It's literally a breath of fresh air, and one that will leave you feeling totally satisfied. Juul Menthol available with 3% and 5% nicotine level.
What does Juul Berry Flavor Taste Like?
Juul pod Berry flavour with bright and fresh notes allow yourself a brief but pleasantly bracing respite from the hustle and bustle of everyday life. Juul pods berry transport you to a lofty plane of cooling, cleansing refreshment. Bountiful berries supply a full-bodied, mouthwatering core flavour, with just a hint of subtle, natural sweetness, expertly tempered with touches of invigorating mint lead.
What does JUUL mango taste like?
Juul Mango is tangy mango flavour with notes of tropical fruits. JUUL pods are designed to fit the JUUL Vapouriser. Only use JUUL pods in your JUUL Vapouriser. Mango is a perennial favourite flavour amongst fans of fruity vapes, and for good reason. Ripe and juicy, their mouthwatering natural sweetness stays satisfying, without ever becoming sickly. A fruit fiesta that stays fresh all day, these Mango Nectar vape pods are a tried and tested tropical tantaliser.