Authentic JUUL 2 Starter Kit
JUUL 2 Starter Kit is an easy-to-use, next generation JUUL Device designed for adult smokers looking for an alternative to cigarettes.
The JUUL 2 starter kit comes with a device, charging dock and 2 pods: Virginia tobacco and crisp menthol. Each pack contains 2 x 18 mg / ml nicotine strength pods.
The JUUL 2 Starter Kit is designed to only function with authentic JUUL2 pods manufactured by Juul Labs. JUUL2 pods contain nicotine.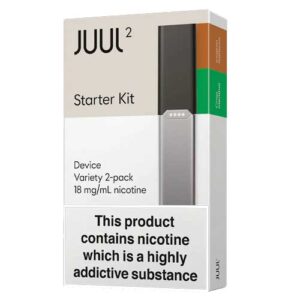 JUUL 2 Device Features:
Built-In Battery: 250mAh
Indicator lights for charge status, battery level, e-liquid level and pod authenticity
Pods Nicotine Level: 18mg/ml nicotine salts
Compatible with the JUUL APP only available for Android™ platform
JUUL 2 Device Includes:
1 x JUUL2 device
1 x USB Charging Dock
2 x JUUL2 pods