NEW Authentic JUUL 2 POD SYSTEM
The Juul 2 Pod System Has Been Launched in the Uk as a New Solution for Adult Smokers to Use as a Smoking Cessation Tool That Builds on the Original Product's Functionality and Form. Juul 2 Pod System Puts Out More Vapor, Allowing It to Deliver More Nicotine With Lower-strength E-liquid.
Research by Juul Labs Shows the New Juul 2 Pods, Which Use 18 Mg/ml E-liquid, Deliver More Nicotine to Users Than the Original Juul (With 59 Mg/ml E-liquid) When Used Freely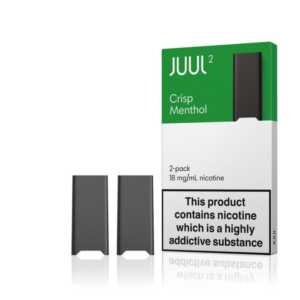 New Juul Pod System Review
The Vape is Reported to Feature a Battery With a 20% Larger Capacity Than the Original Juul Device and Uses Pods That Hold 70% More Liquid. The Device Also Boasts an Intelligent Light System That Will Communicate Battery Level and E-liquid Level to the User at a Glance.
The Product is Arriving With Six Flavor Pods to Choose From Including Virginia Tobacco, Crisp Menthol, Polar Menthol, Ruby Menthol, Autumn Tobacco and Summer Menthol.
Emea Vp at Juul Labs Dam Thomson Spoke on the New Juul 2 Pod System Saying, "following a Successful Online Pilot Launch, We Are Pleased to Release the Next-generation Juul2 for Sale Nationwide Through Our Retail Partners in the Uk.
We Have Been Encouraged by the Number of Existing Juul Users Who Have Transitioned to the New System Since Launching on Our Uk Website, and We Look Forward to Providing Even More Adult Smokers With an Alternative to Combustible Cigarettes."
About the Juul 2 Pod System
Authentic Juul 2 Vape is an Easy to Use, Next-generation Device Designed to Provide More Cigarette-like Satisfaction for Adult Smokers**. The Long Lasting Battery Has Over 20% More Battery Capacity Compared to the Original Juul Device.
The Juul2 Device Comes With a Device and a Charging Dock. Pods Are Not Included; Browse Juul 2 Pods Here. The Juul 2 Pod System is Designed to Only Function With Authentic Juul2 Pods Manufactured by Juul Labs. Juul Vape Dubai Pods Contain Nicotine.
Not for Sale to Minors: This is an Age-restricted Product and Age Verification is Required at Sale.
Juul 2 Pod System – Key Features:
Replacement Battery by Juul
250mah Battery
Available in Slate Grey
Draw-activated
Usb Charger Included
Dimensions: 70mm X 11mm X 7mm
Juul 2 Pods Are Only to Be Used With a Juul 2 Device. The Juul 2 Pod System is Designed to Only Function With Authentic Juul 2 Pods Manufactured by Juul Labs. Juul 2 Pods Contain Their Uniquely Satisfying E-liquid. 18 Mg/ml Nicotine Strength. Each Pack Contains 2 Pods.
What's in the Box?
2 X Juul2 Pods
Crisp Menthol Flavour
1 Juul2 Pod Contains: ~1.2 Ml
Nicotine Concentration: ~18 Mg/ml
Total Nicotine Content: ~21.6 Mg/juul2 Pod