Authentic Pod Salt E-juice 50ml In UAE
Pod Salt E-juice 50ml replicates the nicotine salts found naturally in tobacco leaves, to produce a perfectly smooth experience with minimal throat irritation. Nicotine is also absorbed faster, and stays there for longer, providing a greater level of satisfaction than traditional e-liquid.
This combination of factors is helping more smokers to transition from tobacco, and also many current vapers are making the switch too. Stealth vaping has never been easier, or more satisfying. 16 popular flavours have been skilfully re-engineered to provide the best possible taste in a nic salt format. From authentic tobaccos to tantalising fruits and menthols, you're bound to find something that hits the spot.
Pod Salt E-juice 50ml is a supplier offering new and also premium quality vaping products. We aim to bring you the freshest e-liquid brands, with the best flavours, Pod Salt E-juice 50ml comes in medium-sized bottle with a nice cloud and flavor chasing blend of 70/30 VG/PG that all vapers can really appreciate.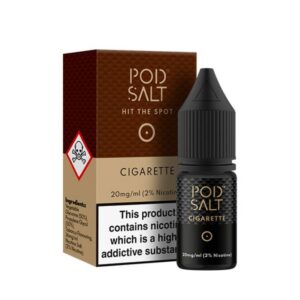 Pod Salt Features:
Brand Name: Pod Salt
VG/PG: 70%/30%
Size: 50 ml
3mg Nicotine ( Freebase E-Liquid )
Specification:
Perfect for a Summertime Vape or for an After-dinner Sweet Hit, This Strawberry Vape is Jam-packed.
This Combination of Refreshing Watermelon With an Icy Breeze Makes for a Cool and Mouth-watering Experience.
A Timeless Classic. Tasty Cola is Piqued With a Fresh Bittersweet Lime Flavour.
A Refreshing Blend of Exotic Mango and Ice Menthol for a Cool, Refreshing Vape Experience.
We Have Doubled Up on Apples in This Signature Flavour. Sweet and Authentic Apples From Two Classic Varieties for a Superior Bittersweet Taste.
A Slice of Your Favourite Lemon Sponge Cake. A Deliciously Smooth and Creamy Dessert Making This an Irresistible Treat.
A Refreshing Forest Fruit Mix of Strawberry, Raspberry and Blueberry With a Cool, Ice Blast.
Package Contents Include: 
1 x Pod Salt Eliquid 50ml
VG/PG: 70/30