VGOD E-LIQUID 60ML ALL FLAVORS 3MG NICOTINE
VGOD E-LIQUID 60ML is to be used with dripping atomizers NOR Sub-Ohm tanks. This is not a typical ejuice. Again, VGOD E-Juice is Nicotine Salts and are strictly meant for high-wattage devices such as the Eleaf iCare, the MyJet or the Limitless Pulse Mod. This ejuice is very HIGH IN NICOTINE and meant ONLY for low-wattage, mouth-to-lung devices. If this ejuice is used with a non-compatible device, it will damage your coils.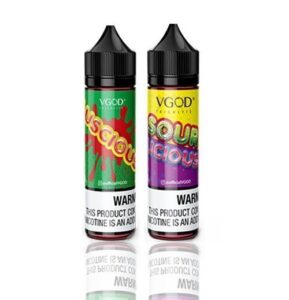 VGOD E-Juice Features:
60mL Unicorn Bottle
70% PG
30% VG
Nicotine Salts Formulation
Crafted For Ultra-Low Wattage & Pod-Based System
Made in USA
Manufactured by E-Juice
Available in 3mg
Flover Profile:
LUSH ICE: Simple and sweet, try the signature flavor of

VGOD E-LIQUID 60ML

 Iced Watermelon. Sweet, watermelon flavor with a taste of menthol that makes you fresh all day. If you are looking for something simple to vape, this is the right flavor for you! Whenever in doubt, vape Lush Ice by VGOD E-Juice. 3mg and 6mg Nicotine level available.
CUBANO: Cubano tastes just like a great Cuban Cigar smells topped off with a drizzle of vanilla cream! If you enjoy a rich, robust, Cuban tobacco flavor mellowed with creamy smooth vanilla goodness then look no further than Cubano.
APPLE BOMB: Apple Bomb – Sour Apple Belt by

VGOD E-LIQUID 60ML

melts down mouth-puckering candy apple sour belts and blends it with a sweet sugary exhale to create a delightfully sour vape.
BERRY BOMB: Berry Bomb – Sour Strawberry Belt by

VGOD E-LIQUID 60ML

is a fruity candy mix of fresh strawberries blended with even sweeter and tart candied strawberries for an explosion of sublime strawberry overload.
LUSCIOUS SPLASH: Luscious by

VGOD E-LIQUID 60ML

is a new nicotine salt that tastes like sweet, juicy watermelon. Designed for the low wattage pod system, try this refreshing flavor that takes you back to summer. Available in 50mg nicotine level, grab one now!
MANGO BOMB: VGOD Salt Nic Mango Bomb calls upon juicy succulent mango flavors! The 70-30 VG-PG ratio allows the full mango flavor to come through with each and every hit! Mango Bomb is available in 25mg and 50mg nicotine options recommended for pod system use only. Mango Bomb is packaged into fantastic 30ml unicorn bottles to help ensure easy refills every time! You can get your bottle of VGOD Salt Nic Mango Bomb today at Aspen Valley Vapes!
MIGHTY MINT: E-Juice Mighty Mint Nic Salt Juice delivers a blast of frosty spearmint flavor so invigorating that it will send chills up your spine. A nicotine salt formula gives you a smooth throat hit every time, even at higher nicotine strengths. Use Mighty Mint Nic Salt Juice with your favorite pod mod or similar low-wattage device for a minty-fresh vaping experience that will leave you mighty satisfied.
SUMMER STRAWBERRY: Imagine chilling poolside ripping a perfectly balanced hit of freshly ripened strawberries. The coolness splashes over you like the ultimate tube ride barreling over you with a crisp refreshing fruity essence. No added sugary creamy BS! Just the freshest strawberries. Simplicity at its' finest with no compromises. An all-day vape intended for your favorite pod system and loaded with an E-Juice punch. Summer Strawberry will have you dreaming of an endless summer!
TROPICAL MANGO: Huge mango flavor in a small pod. Created for your favorite low wattage device, Tropical Mango by E-Juice offers everything you love about mango, accented with other delicious tropical elements, bringing you satisfaction all day long.
PINK CAKES: This is a sweet cake dessert flavored e-juice that is so hard to put down. The buttercream icing taste goes so well with the robust flavor of nicotine salts. Both of those flavors help balance each other out perfectly.