AUTHENTIC TIKOBAR LUX 2500 PUFFS DISPOSABLE VAPE
Find out more about TIKOBAR Lux. In the United Arab Emirates, the TIKOBAR LUX 2500 PUFFS kit is a simple, single-use pod vape that delivers a potent dosage.
Each TIKOBAR lux Disposable kit includes a 7mL bottle of nicotine juice with 5% salt, enough for approximately 2500 puffs, as well as an integrated 1200mAh battery. This one-time-use device has no buttons and operates through inhalation.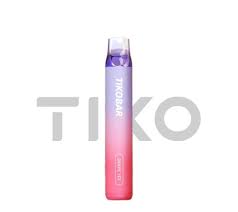 TIKOBAR LUX 2500 PUFFS DISPOSABLE FEATURES:
Brand Name: TIKOBAR LUX
7.0ML Dual Vertical Coil Liquid Capacity
Size (mm.): 105 x 19 x 18
Nicotine by volume: 5.0%
2500 Puffs APPROX ah
Quantity: 1pc./pack
TIKOBAR LUX DISPOSABLE PODS – FUUMY (50MG – 2500 PUFFS) Features:
Draw-activated disposable pod
Best for MTL vape
Pre-filled SaltNic e-liquid
With 10 Flavors of Selection.

Strawberry Watermelon
Lush ice
Blue Razz
Cool Mint
Grape Ice
Red Energy
Lychee Ice
Purple Rain
Green Apple
Aloe Blackcurrant